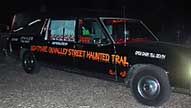 NIGHTMARE ON VALLEY STREET: Unsure footing begins the 2012 Valley Street Nightmare, as the course gets underway in the presence of body-bags, and a few masked monsters inhabiting a brief maze, then exits into the woods where groups fall under a sudden gorilla attack, and become ensnared in an entrapment of spider-webs. Escape exposes a sudden flash of light that produces an immediate blinding effect just as the trail makes its way back into complete darkness where a sudden quad pursuit ensues followed by a series of unexpected confrontations while passing by a spooky cemetery. Ghouls rapidly approach from every direction imaginable - even repelling down out of trees! Fleeing in search of safety leads instead to a run-in with a 10' tall Devil, then a deadly chainsaw assault into the clutches of Michael Myers. A deadly junkyard lies on the horizon that witnesses a brute smashing the windshield of an already wrecked car, then a sparking encounter with a fiend armed with an electric grinder! Loud pounding, a second chainsaw engagement, more spongy floors, and an impromptu bungee-induced surprise that abruptly goes flying across the path from out of nowhere set the stage for additional rendezvous with overzealous spooks that introduce a not so festive funhouse of evil-minded clowns! Another graveyard is still to come, as is a bloody room of dismembered body-parts, a near fatal collision with a hit and run driver, poisonous snakes, a "Ghostface" resembling scarecrow, and a battle with snarling werewolves that concludes this year's installment of Nightmare on Valley Street.

Analysis:
LENGTH - 9, 21 minutes (down from 30+ a season ago when it included Rat Trap Maze that's now a secondary attraction).
ACTORS - 9, This attraction always features plenty of actors, and several masked monsters are again present this season, many of whom did a much better job interacting with groups and engaging individuals with dialogue. On the down side, a lot of them were clad in Nightmare on Valley Street t-shirts instead of costumes, and Myers wore a robe rather than coveralls. Talkative clown inquiring if you're "ready to die?" and asking to accompany us home is a stand-out. Trademark "stiltman" returns with a new mask, and Bungee startles are memorable as well. Leatherface has been reassigned to Rat Trap. Total Characters = 60! (but down from 72 in 2011 due to concluding maze now being offered as a separate attraction.)
SCARINESS - 8, Inferior soundtrack (consisting of radio station playing commercials and Red Hot Chili Peppers Scar Tissue) unfortunately offsets this season's better acting, as well as this trails legitimate, unique scares that annually include clever utilization of motorized vehicles, and unexpected bungee-line surprises out of trees and surrounding brush. Disappointing loss of Leatherface segment (which teased exposure to potential victims, then moved on only to return minutes later and witness him bursting onto the scene to violently do them in) hurts as well, as it was 2011's best addition.
DESIGN - 7½, Course is well marked throughout, but as previously mentioned, last year's fabulous Texas Chainsaw Massacre saga has been lost, which is a major step in the wrong direction. Overall duration of the course was trimmed by nearly a third, as well. "Chopping" a haunt up into sub-segments is often detrimental to an otherwise quality attraction, and unfortunately that's what's happened here with the splitting off of Rat Trap. Additional impressive scenes like last year's Leatherface tease are necessary to compensate for what's been taken away, and regrettably that hasn't taken place. Spongy flooring is about all that's new.
PROPS - 8, This has always been the weakest link at Valley Street. Scenes are adequately decorated, but transition zones are fairly unadorned, and there's not an abundance of memorable props.
VALUE - 8, No price increase for the trail itself for a fifth consecutive year, but it's 10 minutes shorter, and offers a more expensive combo ticket for Rat Trap, and the family friendly Hillbilly Hayride. Need to introduce additional quality scares to make up for turning this into a multi-venue attraction.
RATING: 8, Unfortunately, expansion has negatively impacted the performance at Nightmare on Valley Street a bit in 2012. Most of the same scares remain at one of Ohio Valley's favorite trails, and they certainly aren't commonly seen elsewhere, but they're being presented in a slightly different way, and need time to develop and improve, which they will surely do as the insanity continues for a tenth season at Nightmare on Valley Street. Come and GET THE YELL SCARED OUT OF YOU!
RAT TRAP MAZE: The former concluding leg of the Nightmare on Valley Street trail has branched off on its own, and is now a stand-alone attraction. Consisting mostly of a sheet maze sporting several dead ends and monsters along the way, this entrapment visits Taylor Meats where decapitated heads hang down from hooks, and life and death conflicts arise when Leatherface goes on a rampage! A second and third chainsaw assault further confuses the labyrinth, which mandates ducking down in order to proceed, and avoiding such obstacles as hanging body-bags suspended from above, a near hit-and-run courtesy of a horn-honking semi, and treacherous confrontation with "bleeding tears" Michael Myers as the desperate search continues for the lone escape route from the all new Rat Trap Maze at Nightmare on Valley Street.

Analysis:
LENGTH - 8, 15 minutes.
ACTORS - 8, Those present deliver startling scares with a rather unpleasant demeanor, but nowhere near the density of villains encountered along the trail, and dialogue is absent for the most part. Total Characters = 20!
SCARINESS - 6, Sound enhancement would again go a long way toward complimenting scares, as is the case on the trail itself. The main threat here is the uncertainty of the path, and the potential feeling of futility in successfully completing the course.
DESIGN - 7, It's a rather lengthy, yet fairly basic maze from a stand-alone attraction perspective. Numerous loops and dead ends are present, but it offers few unexpected occurrences. Having Leatherface inhabit the confines is a nice touch, and serves as a distraction as to which paths have already been explored, but his 2011 role made a much greater impact as discussed in detail in the trail section above. More surprises would be nice, including possibly teasing the exit route via "false finishes" by allowing it to be seen from a section or two that fail to deliver access to it. Tilted, collapsing, vibrating flooring would also work, as would mirrored sections, crawl spaces, etc., and perhaps a few central rooms of named paths all but one of which lead to various failures.
PROPS - N/A, This category doesn't apply to mazes.
VALUE - 6, $10 is a bit too much to expect at this point in time considering the reason for its existence was to conclude and lengthen the main event trail.
RATING: 7, The decision to separate Rat Trap from the main trail results in a secondary attraction at the Nightmare on Valley Street site leaving its predecessor with somewhat of a void to fill. The trail needs a new, powerful finish to take the place of the maze, and Rat Trap needs to grow to be able to be considered a legitimate stand-alone attraction, but the foundation is now in place, and time is all that's needed to produce the desired result.